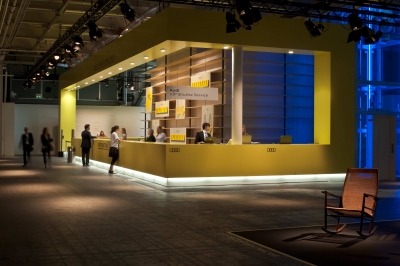 Visitor Information
Venue
New Location
Hall 1.1, Messe Basel, Messeplatz
Basel, Switzerland
Show Schedule
General Public:
Tuesday, 11 June to Sunday 16 June
Daily from 11am-7pm
Preview Day (By invitation only):
Monday, 10 June 2013
Future Show Dates:
Design Miami/ 2013
December 3 (Preview Day)
December 4-8
Design Miami/ Basel 2014
June 16 (Preview Day)
June 17-22
Tickets
Tickets can be purchased for entry to the fair Tuesday to Sunday, 11-16 June.
General Admission: CHF 20
Students & Senior Citizens (with valid ID): CHF 15
Tickets are valid for one day only.
Mandatory Bag Check
For safety reasons, all bags larger than 30x30cm, briefcases and backpacks must be checked before entering the exhibition hall.

Travel & Accommodations
Turon Travel, Inc
2 Wooster Street
New York, NY 10013
USA
Telephone: 212 925 5453 / 800 952 7646
Fax: 212-219-1865
turontravel.com
designmiami@turontravel.com
Please visit EuroAirport for information on flights into the Basel-Mulhouse-Freiburg airport.
The schedule for Swiss International Airlines can be found at www.swiss.com.
By Train
To travel by Swiss Rail System (SBB), visit www.sbb.ch
To travel by French Rail System (SNCF), visit www.sncf.fr
To travel by German Rail System (DB), visit www.bahn.de
By Tram
From both the SBB/SNCF and the DB/Badischer Bahnhof stations, you can take Tram No. 2 to Messeplatz.
From the DB/Badischer Bahnhof station, you can also take Tram No. 6 to Messeplatz.
From the SBB/SNCF station, you can take Tram No. 1 to Riehenring.
Official Website of Basel
www.basel.ch